August 20, 2014[Product Information]
Walnut Series coming!



This is a natural spin on our classic models. These walnut Rickenbackers boast the same full, rich and warm sounds that we are known for, while adding the strength and natural character of walnut polished with an oil finish. The full model lineup for the W Series includes the 330, 360 and 4003. All are outfitted with Maple necks. The entire line is made from top quality wood to deliver thorough excellence.


Model 330 Walnut

Body:Walnut
Neck:Maple/Walnut/Maple
Fingerboard:Maple, 10"Radius
Fret Marker:Dot
No Frets:24
Scale Length:24 3/4"
Pickups:2 Hi-gain Pickup
Machine Heads:Schaller Machine Head
Case:Standard Hard case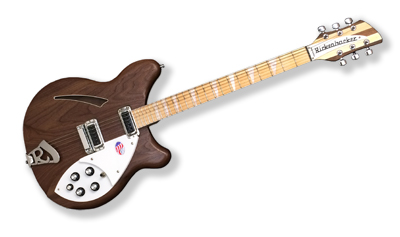 Model 360 Walnut

Body: Walnut w/Binding
Neck: Maple/Walnut/Maple
Fingerboard: Maple, 10"R w/Bind
Fret Marker: Triangle
No Frets: 24
Scale Length: 24 3/4"
Pickups: 2 Hi-gain Pickup
Machine Heads: Schaller Machine Head
Case: Standard Hard case



Model 4003 Walnut

Body: Walnut w/Binding
Neck: Maple
Fingerboard: Maple, 10"Radius w/Binding Fret Marker: Triangle No Frets: 20 Scale Length: 33 1/4" Pickups: 2 Single Coil Pickup Machine Heads: Schaller Deluxe Machine Head Case: Standard Hard case